« March 15, 2005 | Main | March 17, 2005 »
March 16, 2005
fast food diner
Fried potato, jammie
Our fast food diner today in front of the British counsel where we had an luxurious opening party.
Posted by johan at 11:08 AM | Comments (0)
Short Supply Chain #2
This time it's dessert! Ladoos, to be exact. These gentlemen are working in the temple compound (Hanuman Mandir, CP, Delhi) 30 metres from the dung fuel sales and manufacturing woman. Their whole production setup takes place within 10 metres, their point of sale is 30 metres away.
A ladoo is a graham flour sweet, sometimes made with puffed rice. If someone would explain to me why one always finds ladoo near temples I would be most appreciative. I think it has to do with religiously santioning things that people like to do anyway, and I mean that in the most generous possible way.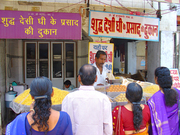 No page on ladoo exists in wikipedia. Let's get to work.
Posted by debra at 09:53 AM | Comments (0)
Short Supply Chain #1
Here in Europe we can't stop talking about 'food miles', that is to say, how many kilometres our food travels before we actually get to touch it. There's that quite famous study of the strawberry yoghurt, It's the same for all products, including cow dung fuel. The images shown were all taken within 20 metres (!) of eachother in the Hanuman Mandir temple complex near CP, Delhi.
Cow - dung collection - patty cake patty cake dry dry dry - fuel saleswoman

Doors of Perception Weblog - Food Tachometer

Well traveled yogurt with link to pdf article
Calculating food miles for a multiple ingredient food product [PDF]

Articles on Transport Policies, Land Use and Environment
Posted by debra at 09:50 AM | Comments (0)