March 22, 2005
Social Innovation Salon
The Social Innovation Salon part of the Doors8 INFRA conference is being built-up. Nomadic Banquet is one of the pre-conference workshops represented in what is supposed to be a poster presentation deep in the guts of the Habitat Centre. Even before the official start of the 'salon', visitors can be seen roaming around the 'stands', trying to glean bits of what went on the week before the conference started.
One of the pariticpant groups of the NomBanq workshop was responsible for the look and feel of our presentation at the Social Innovation Salon (SIS).They gathered and printed images from all of the Nom Banq focus groups (Experience, Mapping, Economy/Value) and served-up them up in the leaf and repurposed paper plates in which the street food is often served. Stacks became books with as many staples as one can use. The dhurries and mats as well as the 'protest style' banners were displayed as well. Here one sees the building up process of the SIS.
Posted by debra at 03:48 PM | Comments (0)
March 20, 2005
Nomadic Banquet HQ in Delhi
A composite picture of the workshop headquarters with participants (from l to r) Pratima, Maria, Julian, Kanu, Surbhi, Kannika, Sanjeev, Deepika. Click further for participants shots.
Posted by debra at 02:07 PM | Comments (0)
Jaanpath Lane - Paratha Man portrait (details)
timewise: he is sitting at this spot since 1984, 21 years, every day, 7 days a week
moneywise: paratha stuffed w/herbs - 4 Rs each, paratha stuffed w/eggs - 8 rs each
packagingwise: parathas are served on sheets of newspaper (sometimes the financial section!)
Posted by maria at 09:37 AM | Comments (1)
March 19, 2005
Pre-Conference Workshop Begins
The pre-conference workshop began on Friday. After a morning introduction, the participants took a street food tour of Old Delhi. Today the workshop participants split into smaller groups to focus on particular projects having to do with topics such as experience, economy/value, skin/appearance, mapping, etc.
The workshop participants (besides those from DAI) are: Priyanka Dilip, Deepika Arora, Kanika Sachdera, Kanu Priya, Surbhi Singhal, Michael Coburn, Pratima Kalmadi, A.V. Varghese, Vaibhav, John Vijay Abraham, Sanjeev Shankar. They hail from the following academies and universities: Pearl Academy (New Delhi), NIFT (New Delhi), Shrishti (Bangalore), IIT Bombay, Royal Melbourne Institute of Technology.

Posted by Julian at 02:55 PM | Comments (0)
Street Food Vendors Create Paths
The street food vendors are an essential component of the architecture of Delhi, not just in terms of their physical structure or physical placement, but in terms of how they engage in, create, and facilitate movement, and how they create or maintain paths.
When a street food vendor creates or maintains a path, it is doing three things. First, it is creating or maintaining movement and action. Second, it is creating or maintaining narratives, stories of paths travelled. Third, it is creating or maintaining architecture, as lines across space that define and conceptualize place.
Posted by Julian at 02:49 PM | Comments (0)
first meeting with the paratha man
just below our street (jantar mantarroad) is a square(village green) with all kind of streetvenders.
Posted by johan at 01:07 PM | Comments (0)
March 18, 2005
Milk Tea (Tchay) two versions
Posted by maria at 08:20 PM | Comments (1)
celebrate banner deal
Celebrate the banner deal.
When I picked up the banners, I had to wait a for a while and sit together with the neighbours of the painter.
This was where meeting point after work were the drunk beer and I had to drink with them beer mixed with whiskey, terrible.
Posted by johan at 11:15 AM | Comments (0)
roadview banners banners banners
There seems to be no regulations
Posted by johan at 11:10 AM | Comments (0)
March 17, 2005
banner making
This was a nice thing to do, go out on the streets to find a painter how can make a banner in hindi. So we had to translate text, and found out that there are two translations for street vendors one for the legal and one for the illegal. The painter had a small office as big as a toilet and worked on the wall outside.
Posted by johan at 12:38 PM | Comments (0)
Walking Generates Architecture
"Walking has always generated architecture and landscape, and…this practice, all but totally forgotten by architects themselves, has been reactivated by poets, philosophers, and artists capable of seeing precisely what is not there, in order to make 'something' be there."
-Gille A. Tiberghien
from the Introduction of Walkscapes (p.13)
/\/\/\/\/\/\/\/\/\/\/\/\/\/\/\/\/\/\/\/\/\/\/\/\/\/\/\/\/\/\/\/\/\
Delhi is very much a macro-city or a megacity. It's population of over 14 million people is nearly equivalent to that of the Netherlands, and puts it in the same category as the greater Los Angeles area and Beijing, cities which have both high populations and sprawl. But megacities are counterproductive to nomadism. This does not mean that they prevent movement, but they make it more difficult, less efficient, more time consuming, more wasteful of resources.
Paolo Soleri says that the "urban effect" is the act of miniaturizing our habitat. It is reorganizing our environment into "an intense, interlocking, interweaving, interacting set of elements" that creates an urban consciousness rather than just a structure. It is about overlapping activity. In this sense Soleri realized that the city is more about movement and the creation of paths than about physical structures. I think that this notion, along with the ideas of Teilhard de Chardin and Charles Darwin that life evolves through complexification, is what makes Soleri's city designs so human and so liveable. Notwithstanding the enormous differences in population and locale, my experiences of staying in Arcosanti and Delhi could not be more opposite. Both are high density, both are defined by movement. But Arcosanti is designed around the idea of paths, movements, open spaces, density, complexification, and miniaturization. Delhi is not planned. It has spread out chaotically, has grown too large, not in terms of population but in terms of land area. Density has come at the expense of open space. The paths formed by the urban nomads of Delhi must constantly fight against the chaotic non-planning of the streets and the distances between various enclaves.
One of the defining characteristics of the transformation of the city in the latter half of the twentieth century has been the decay of the ordered core of the historical cities and the rise of the chaotic periphery. This has also lead to the rise of more citizens engaging in "transurbance", the rediscovery of the dimensions of the path-journey and the reconceptualization of physical space using a phenomelogical paradigm rather than a Cartesian-grid paradigm. When mapped on foot and through personal experience, the city becomes a world with districts undefined by Cartesian maps, where nomadic street vendors ply through chaotic territories uncharted by the traditional architects and city planners.
Despite the chaotic appearance of the decentralized, sprawled city, the design of the city from the perspective of its nomadic inhabitants, and the elements in motion, can be interpreted as an overlaying of complex geometries. These geometries are not only overlayed but also interwoven and interacting form the more vital structure of the city the physical buildings. Francesco Careri posits that cities naturally grow and evolve in a fractal structures without regard to the physical structures imposed on them, and organically form "fractal archipelagos". These urban islands or enclaves intrinsically form around open spaces within themselves as well as between each other, for the path and the interaction of paths is the critical constituent of architecture. Open spaces inside of cities, which exist either because they were unbuilt or because a structure was destroyed, are often called "urban amnesias" because they are defined as negative spaces, devoid of architectural memory. But these are not simply blank spaces waiting to be filled with structures. They are living spaces filled with paths and meanings.

Posted by Julian at 11:43 AM | Comments (0)
Keep Delhi clean
Let's green Delhi, how will listen to this strange line in a chaotic city with trash everywhere on the streets
green Delhi a noble endeavour.
Posted by johan at 10:23 AM | Comments (0)
Painter Advertisement
We where looking for a painter to make a hindi text on a banner,
they where not hard to find....
Posted by johan at 10:05 AM | Comments (0)
March 16, 2005
fast food diner
Fried potato, jammie
Our fast food diner today in front of the British counsel where we had an luxurious opening party.
Posted by johan at 11:08 AM | Comments (0)
Short Supply Chain #2
This time it's dessert! Ladoos, to be exact. These gentlemen are working in the temple compound (Hanuman Mandir, CP, Delhi) 30 metres from the dung fuel sales and manufacturing woman. Their whole production setup takes place within 10 metres, their point of sale is 30 metres away.
A ladoo is a graham flour sweet, sometimes made with puffed rice. If someone would explain to me why one always finds ladoo near temples I would be most appreciative. I think it has to do with religiously santioning things that people like to do anyway, and I mean that in the most generous possible way.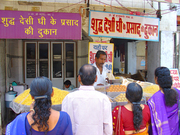 No page on ladoo exists in wikipedia. Let's get to work.
Posted by debra at 09:53 AM | Comments (0)
Short Supply Chain #1
Here in Europe we can't stop talking about 'food miles', that is to say, how many kilometres our food travels before we actually get to touch it. There's that quite famous study of the strawberry yoghurt, It's the same for all products, including cow dung fuel. The images shown were all taken within 20 metres (!) of eachother in the Hanuman Mandir temple complex near CP, Delhi.
Cow - dung collection - patty cake patty cake dry dry dry - fuel saleswoman

Doors of Perception Weblog - Food Tachometer

Well traveled yogurt with link to pdf article
Calculating food miles for a multiple ingredient food product [PDF]

Articles on Transport Policies, Land Use and Environment
Posted by debra at 09:50 AM | Comments (0)
March 15, 2005
When is recycling not recycling?
When the recycled or re-purposed item never really had a purpose in the first place. These papers, have been left on the ground (location across the street from Jantar Mantar, Delhi), as far as I can tell, for no other purpose than to be repurposed. The image on the left is a stack of paper left on the street as an offering to the gods of the recycled chaat-bag-makers.
Packaging for chaat is often nothing more than a bag made from old newsprint or repurposed paper, or for the wetter stuff, a leaf plate. The bag pictured on the right was made from some terribly interesting literature about bonds. One can see the imprint of the deep-fried sweet peas contained within being absorbed into the paper making a pretty pattern.
Posted by debra at 03:41 PM | Comments (0)
Nomadism as Architecture
The idea of nomadism as an architectural construct is very poignant in Delhi. To be sure, this is a city of massive physical proportions. But even more so, I think, it is a city of constant motion, of sinuous paths. Perhaps more important than the physical architecture of the city is the nomadic architecture of the city. The paths of taxis, auto-rickshaws, bicycles, land cruisers, and feet form the vital paths of Delhi in all three sense of the term "path". The first sense is the action, the act of moving from one place to another. The second is the narrative, the stories of spaces crossed. And the third is the architectural object, the path as a line across space. Francesco Careri contends that nomadism is the oldest form of architecture, yet still the most vital and least considered by architects.
Posted by Julian at 08:20 AM | Comments (0)
Space and Refuge
Delhi is a continuous public drama, played out in the constant swirling flow of people, vehicles, animals, smells, colours, and noises. There is little open space; most space is packed full, save fr the sanctuaries of religious temples, private homes, and parks. But for the poor of Old Delhi, perhaps the Jamu Misjid mosque is the only refuge, the only large empty space whose ediface points resolutely towards Mecca. The expanse is filled with the music of water and wings. Sunlight flashes from the surface of a fountain where revelers wash and children make boats from newspaper. Pidgeons arc and turn as hawks watch from the minarets above. Descending into the old city below, the senses are molested with noise, dirt, but more than anything, I think, the lack of open space.
-+-+-+-+-+-+-+-+-+-+-+-+-+-+-+-+-+-+-+-+-+-+-+-+-+-+-+-+-
"The most important part of a window is the empty space
in the center. The most important part of a door is
the space through which you pass. The most important
essence of things is that which you cannot see."
-Tao Te Ching
-+-+-+-+-+-+-+-+-+-+-+-+-+-+-+-+-+-+-+-+-+-+-+-+-+-+-+-+-
Posted by Julian at 08:13 AM | Comments (0)
Paan virgin spits like a girl
Everywhere in Old Delhi, on every cornerpost of every building there is a reddish haze the colour of terracotta. For awhile I thought it was just the iron oxide in the dirt and dust and so much of the architecture (for example the Jantar Mantar observatory) has this colour. But after a few hours of walking around I saw a few fresh splotches of red and realised what it was. Paan spit.
Paan is a 'digestive'. A leaf, painted with all manner of spices, flecks of gold leaf, sugar crystal and proportedly even opium. You take the leaf roll in your hand from the paan-wallah who has lovingly prepared his special version from 20 or so fine tins of ingredients and ingest it like chaw, I think. This morning, before the coffee I tried my first chew.
What a tenacious taster I was, and this was entirely ridiculous because PAAN IS GOOD. Paan tastes like perfume smells, paan tastes like delicious spices and sugar, bitter, everynow and again a bit of sour. Riding around in a rickshaw in Delhi, between whiffs of exhaust and... well let's just say mostly exhaust, you get a whiff of heavily perfumed air. That's what paan tastes like. Delicious. The texture is as grainy and juicy, I'm sure every paan is different.
And the buzz? Well, I notice a slight tingling in the back of my throat which is probably clove related, and the mind-altering quality is less than that of a cup of coffee. Of course now I'm interested in getting into something a bit heavier.
Next time I'll attempt a truly peaceful savouring of the paan and will be working on my spitting technique. It turns out, surprise surprise, I spit like a girl!
Posted by debra at 07:19 AM | Comments (1)
March 14, 2005
Chew zone for chaw
You can just imagine the headline: Delhi street food vendors benchmark good health practices and urban planning! This Delhi street vendor has set up a much needed no smoking zone right in front of his stand (located in front of the state emporia across the street from the Hanuman Mandir complex near CP). Please correct me if I'm wrong but I believe he is selling little packets of flavoured chewing tobacco.
Posted by debra at 06:44 PM | Comments (0)
cab-stand Thea vender
street vender where often connected to transfer places like busstops cabstands etc.
Posted by johan at 10:00 AM | Comments (0)
collecting package
collecting (image)material, street venders food-package. Here you see a plate made from leaves
Posted by johan at 09:52 AM | Comments (0)
March 12, 2005
12 March
Today after breakfast and a meeting, we went to Old Delhi to visit the Jamu Misjid mosque and the street food situation there. The mosque was amazing and huge, and also afforded us a spectacular view of the Red Fort which is even larger.
The streets of Old Delhi are narrow and packed with people and rickshaws and scooters and goats and street vendors. The smell of auto exhaust fumes, animal dung, and body odor intermingle with jasmine and spices to form a truly schizophrenic olfactory experience.
We had a late lunch at a restaurant called Karim's that was recommended to us. The food was fantastic, as has all the food been here. However, our efforts to find out more about food recycling programs were not very successful today, due in part I think to a language barrier and perhaps a distrust towards Europeans in that part of town. Old Delhi is very poor, and also much more heavily muslim than other parts of the city we have seen, and our presence there was noted by the locals with curiosity, distrust, surprise, amusement, etc...
We will visit again on Monday. It will take time to learn more.
Posted by Julian at 03:41 PM | Comments (0)
10-11 March, 2005
11-3-05
Last night we arrived in Delhi. The first thing to hit me, even before we left the airport, was the smell: damp earth, smoke, curry, and a complex alchemy of scents that my nose could not comprehend.
Today we did some shopping and got oriented in our neighborhood of the city. We also visited CKS and talked with people there about the conference and our research. In the afternoon we had coffee at a trendy bakery where Indian teens dressed in western clothing were hanging out listening to Britney Spears. For dinner we went to a restaurant where the other guests were dressed in much more traditional Sikh or Hindi costumes.
Tomorrow we are looking forward to visiting Old Delhi, and exploring the street food vending network there.
Posted by Julian at 03:35 PM | Comments (0)
Research has begun
After a safe arrival in Delhi, and a 'somewhat relaxing' orientation day (devoid of Internet), we have spent Saturday on the streets in the area of the Jamu Masjid mosque.
The necessity for havens and respit after each 45 minutes of street work has become apparent, and fortunately the city abounds with havens... including a tent with reclining chairs, smack dab in the middle of the city. Giant ruches in red, white and green, and children gambling for ice creams right outside.
The bike rickshaw is revealing itself as an excellent moving haven; elevated just a bit out of the fray and excellent for image collection.
Currently in an Internet cafe in which I cannot upload images. Maria asks, 'where's that highly connected India in the pictures here and here (pointing to Airtel ads with Bollywood stars). And back at the apartment, our friend holds a carrot of broadband before our noses.
Cross your fingers.
Posted by debra at 02:52 PM | Comments (0)
March 11, 2005
First diner

Wash your hands, eat with your right hand, taste and try to remember
Posted by johan at 12:53 PM | Comments (0)
Resting at the Jama Masjid

Leaving the jama masjid mosque, what a contract;
the calmness of the mosque in a crowded neigbourhood
Posted by johan at 09:28 AM | Comments (0)
breath
Im blessed with a Nomadic banquet napkin, you realy need them to breath when you are in traffic in a autoricha.
Posted by johan at 09:25 AM | Comments (0)
March 10, 2005
New Delhi airport - "Knots & Roses"
This bunch of packages inspires the crave for "stealing" it. An act recommended for designers ;-).
Posted by maria at 12:46 PM | Comments (0)
March 07, 2005
Hose me down, I can't stop stamping
The stamp is ready! Now if only we had something to stamp...
And the chopsticks are ready! Now if only we had something to chop...
Posted by debra at 09:35 AM | Comments (0)
March 03, 2005
Handy to mouthy
Check out the collaborative effort! These fancy things have been made by our Ladies of the Napkins, Maria Rapoport and Anne Schiffer. (And if you also helped but I haven't put your name here - get on the horn and let me correct this mistake!) We'll be using them to wipe our mouths and fingers clean when on the streets of Delhi.
Posted by debra at 09:34 PM | Comments (3)