« March 22, 2005 | Main | April 17, 2005 »
April 02, 2005
Delhi Water Bar Service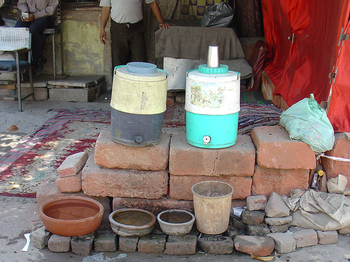 A water bar on a sidestreet off Janpath. 20 metres down the street is a pump and a well. This was actually just a service on offer to draw customers into a shop selling Kashmiri handicrafts and other small shops hidden from the street. I love the pavillion shared by several shop keepers and the water bar because it offers a place for shopkeepers to gather and chat in the shade.
Posted by debra at 09:06 AM | Comments (0)
Prepacked fruit
During our travel in India we mostly bought "prepacked" fruits. Those fruits with "skin" to peel, such as bananas, papayas, mandarins and oranges, strongly keep their virginity and hygiene.
Posted by maria at 12:55 AM | Comments (0)